Art Collection of Lazar Khidekel and other masterpieces online on Google Arts & Culture
Thanks to this new virtual exhibition, users will be able to see the icons of the early Suprematism movement.
Event Venue:
Google Arts & Culture

Event Date:
Starting Oct 24, 2017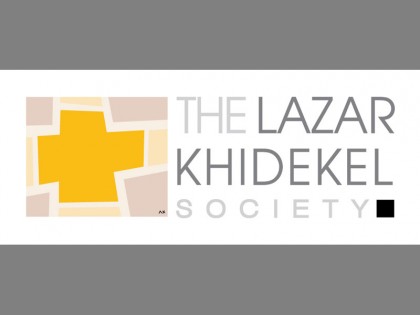 Lazar Khidekel Society and Google are pleased to announce:  Lazar Khidekel Society brings Art Collection of Lazar Khidekel and other masterpieces online on Google Arts & Culture
Starting October 24, 2017, over 150 artefacts from the Lazar Khidekel Society can be viewed online on Google Arts & Culture by people around the world due to a new partnership between the Google and the Lazar Khidekel Society. Thanks to this new virtual exhibition, users will be able to see the icons of the early Suprematism movement such as Lazar Khidekel's Black, Color and White Suprematism series, Kinetic Elements of Suprematism, Floating Suprematist Structures, Cosmic Series, Architectons and first volumetric Suprematist projects,  visionary designs for futuristic cities from mid-1920s – City over Water, Aero-City, City on the Piers, Spatial paintings, including masterpieces such as  Yellow Cross, Suprematist Concentric Circles, Suprematist Space and much more in just a few clicks at: https://www.google.com/culturalinstitute/beta/partner/Lazar-Khidekel-Society.
Get up close with ultra-high resolution images: these masterpieces can now be viewed in never before seen definition thanks to Gigapixel technology, a powerful photo capturing process which has enabled the highest ever resolution image of this feature. Viewers can explore it in extraordinary detail and experience it far beyond what is visible to the naked eye. Features essential for Suprematist methods, and especially Lazar Khidekel's approach, like textures, the position of geometric shapes in space and their suprematist energy relationship to each other, artistic drawing and painting skills, and much more can be explored in full thanks to the zoom technology. Some of the most important items of the online exhibition are:
Details of highlight 1. Yellow Cross, 1923
Kinetic Elements of Suprematism: Circular Movement, 1920
Suprematist Composition with Blue Square, 1921
Suprematist Concentric Circles, 1921
Cosmic World, 1922
Regina Khidekel, representative of the Lazar Khidekel Society said: The launch on of the digital collection of works by Lazar Khidekel on the Google Arts& Culture platform is a significant event in many ways. It is an important day when the works of Lazar Khidekel, who was born and raised in Vitebsk like his first teachers Marc Chagall and El Lissitzky, in the claustrophobic world of the Jewish Pale of Settlement in Russian Empire, enter the wide boundless art world space supported by modern digital technology.  It was in the Vitebsk Art School, founded by Marc Chagal, where a teenage-prodigy met his outstanding teachers, especially Kazimir Malevich, who primed this digital revolution in art by overcoming the gravity and opening of unlimited space stretching beyond the horizon. In this Suprematist space Lazar Khidekel projected his art, design and visionary architecture and futuristic cities, and proposed ahead of time new ecological solutions of how to reconcile development of civilization and nature and to avoid catastrophic natural disasters. A new concept of boundless artistic space, followed by a digital revolution, was envisioned by Suprematism hundred years ago, which makes the art and architecture of Lazar Khidekel today more relevant than ever before. We are infinitely grateful to our collaborators from the Google Arts & Culture for the fact that they physically introduced the heritage of Lazar Khidekel into the world art space along with the masterpieces of the great masters.
About Lazar Khidekel Society: The Lazar Khidekel Society was founded in 2010 by the family of Lazar Khidekel and a group of outstanding art historians, museum specialists and art connoisseurs with the aim of preserving and protecting the legacy of Lazar Khidekel (1904, Vitebsk-1986, Leningrad) in art, architecture and design, and advancing the recognition of Lazar Khidekel as one of the titans of the Russian avant-garde - especially the Suprematism movement, which laid the foundation for visual culture of the 20th and 21st centuries.    

About Google Arts & Culture: Google Arts & Culture is a new, immersive way to experience art, history, culture and world wonders from over a thousand organizations worldwide. Google Arts & Culture has been created by the Google Cultural Institute and it is available for free for everyone on the web, on iOS and Android. Read more here. 
H-SHERA (Humanities and Social Sciences Online)
The Lazar Khidekel Society thanks the NY Malevich Society for continued generous and inspiring support.