A Russian Psyche: The Poetic Mind of Marina Tsvetaeva
In this engaging and penetrating study, Alyssa Dinega Gillespie focuses on Tsvetaeva's poetry, rediscovering her as a serious thinker.
Event Date:
June 2013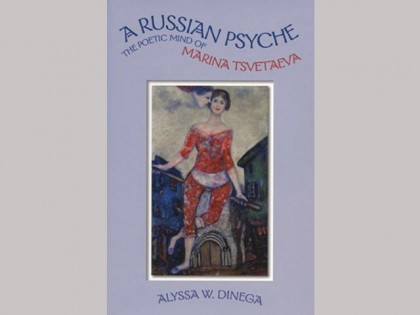 Soon to be available in a Russian-language version, translated by Maria Malikova (Institute of Russian Literature [Pushkin House], St. Petersburg, forthcoming 2013?)
FREE
Russian poet Marina Tsvetaeva's powerful poetic voice and her tragic life have often prompted literary commentators to treat her as either a martyr or a monster. Born in Russia in 1892, she emigrated to Europe in 1922, returned to the Soviet Union at the height of the Stalinist Terror, and committed suicide in 1941. In this engaging and penetrating study, which was first published in English by the University of Wisconsin Press in 2001, author Alyssa Dinega Gillespie focuses on the poetry, rediscovering Tsvetaeva as a serious thinker with a coherent artistic and philosophical vision. Gillespie shows that Tsvetaeva was troubled from an early age by her de facto exclusion from the traditional, male-centered myth of poetic inspiration - the poet's arousal by his female muse. Tsvetaeva's attempts to construct an alternative myth of poetic genius through her dialogues with such contemporaries as Anna Akhmatova, Aleksandr Blok, Boris Pasternak, and Rainer Maria Rilke give insight into her continually evolving creative psychology. Gillespie argues that, ultimately, Tsvetaeva rejects poetic solutions suggested by each of her interlocutors and comes instead to define her own mission as the renunciation of all human companionship in favor of an exhilarating leap of faith into the abyss.
Alyssa Dinega Gillespie is Associate Professor of Russian Language and Literature at the University of Notre Dame in South Bend, Indiana. She received her B.A. in English and American Literature from Brandeis University and her M.A. and Ph.D. in Slavic Languages and Literatures from the University of Wisconsin-Madison. She is the author of Russian Psyche: The Poetic Mind of Marina Tsvetaeva (University of Wisconsin Press, 2001) and the editor of Russian Literature in the Age of Realism (2003) in the Dictionary of Literary Biography series and of Taboo Pushkin: Topics, Texts, Interpretations (Center for Pushkin Studies, University of Wisconsin Press, 2012). She has published articles on Tolstoy, Gorky, Pushkin, Mandelstam, Tsvetaeva, Brodsky, and the Polish poets Pawlikowska-Jasnorzewska and Sep-Szarzynski, as well as translations of the poetry of Tsvetaeva, Khodasevich, Fet, Gumilev, and others. She was awarded second prize in the 2011 Compass Award translation competition, and joint third prize in the 2011 Joseph Brodsky/Stephen Spender Translation Prize competition; she received first prize in the 2012 Compass Award translation competition. Her research interests include Russian and Polish poetry, gender issues in literature, the poetry of exile, and the psychology of poetic genius. Her current major scholarly project is a study of Aleksandr Pushkin's ethics of inspiration. Gillespie lived in Moscow and taught English literature in Russian high schools for three years before completing her graduate education.