Dukor. A Memoir by Daniel Charney | Translated by Michael Skakun
Michael Skakun, author of the book "On Burning Ground" (Macmillan/St. Martin's Press) will talk about his new work - an English-language translation of "Dukor: A Memoir" by the noted Yiddish writer, Daniel Charney, as well as the once flourishing world of pre-war Belarusian Jewry. Join us on March 15th at the Yorkville Library. Video available via YouTube
Event Venue:
Yorkville Library Meeting Room
222 E. 79th Street (btw 2nd and 3rd Ave)
New York, NY 10075 (Vaccination cards and masks required)

Event Date:
Wednesday, March 15, 2023 | 5:30-7:00 PM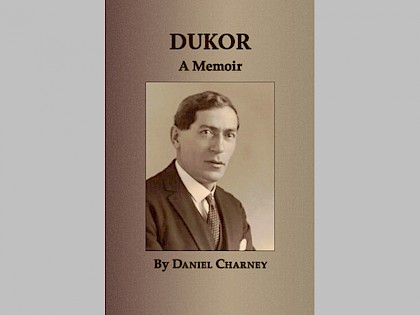 The Russian American Cultural Center presents:
Dukor. A Memoir
By Daniel Charney
Translated by Michael Skakun
Watch the event via YouTube
Published by the JewishGen Press
The renowned Yiddish poet and journalist, Daniel Charney, recounts his childhood in the shtetl of Dukor, Belarus, and his early teenage years in Minsk and Vilna. When Daniel was one his father died, and his mother was left to raise her daughter and five sons in poverty. Daniel, her youngest, also suffered since infancy from a chronic illness. Despite this, Daniel and his family flourished, and two of his brothers achieved great eminence. Shmuel Charney Niger became a Yiddish writer and the leading critic of Yiddish literature; Baruch Charney Vladeck became an American labor leader, member of the New York City Board of Aldermen and City Council, and general manager of The Forward. This book offers an invaluable portrayal of the daily lives of Daniel's family and of the community of Jews who lived in pre-revolutionary Russia, both in Minsk and in the shtetls at a time when Zionism and Socialism were playing a role in the Jewish community.
Michael Skakun is a writer, translator, and memoirist, as well as a public affairs consultant. Born in Jaffa, Israel, he has lived mostly in New York and studied with Alfred Kazin, the late literary critic and scholar of American literature. He served as editor and columnist of various metropolitan weeklies.
He is the author of "On Burning Ground" (Macmillan; St. Martin's Press), a stranger-than-fiction memoir of his father's improbable wartime odyssey of survival.
Russian-American Cultural Center programing is made possible by part with public funds from the New York City Department of Cultural Affairs, in partnership with the City Council, the New York State Council on the Arts with the support of the Office of the Governor and the New York State Legislature, Cojeco and Tianaderrah Foundation.