Emil Draitser, Romeo Spy
Stalin's Romeo Spy. The Remarkable Rise and Fall of the KGB's Most Daring Operative.
Event Date:
May 6, 2010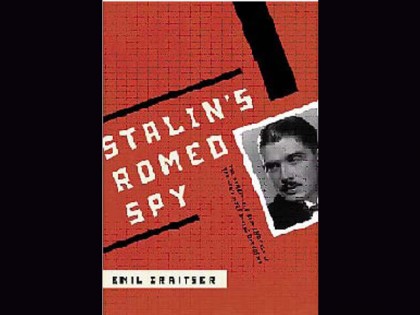 Stalin's Romeo Spy. The Remarkable Rise and Fall of the KGB's Most Daring Operative.
Thursday, May 6, 2010
First presentation of a newly released book
Northwestern University Press, 2010
Dmitri Bystrolyotov (1901–75) led a life that might seem far-fetched, even for a spy novel, yet here the truth is stranger than fiction. In Stalin's Romeo Spy, a private meeting in Moscow in 1973 eventually prompts Emil Draitser into years of meticulous research, piecing together a tumultuous career played out in the shadows of the twentieth century.
A sailor, artist, doctor, lawyer, and writer, fluent in many languages, Bystrolyotov was the Russian equivalent of the British "Ace of Spies", Sydney Reilly. One of the "Great Illegals", a team of outstanding Soviet spies operating in Western countries between the world wars, Bystrolyotov was a dashing man whose modus operandi was the seduction of women—among them a French Embassy employee, the wife of a British official, and a disfigured Gestapo officer. He stole military secrets from Nazi Germany and Fascist Italy, and enabled Stalin to look into the diplomatic pouches of many European countries. In fact, he procured British secrets for the Soviets years before Kim Philby and the Cambridge Five. Idealistically committed to his Motherland, he showed extraordinary courage and physical prowess—twice crossing the Sahara Desert and the jungles of Congo.
But in 1938, Draitser's story turns itself inside out. At the height of Stalin's purges, after his return to the Soviet Union, Bystrolyotov was arrested and tortured. Sentenced to twenty years of hard labor in the Gulag, he risked more severe punishment by documenting the regime's crimes against humanity. With amazing stamina, he survived the repression and came to realize the true nature of the regime he once had served unquestioningly.
Bystrolyotov's first book-length biography in any language, Stalin's Romeo Spy comes as the current successor to the KGB, while glorifying his life through hagiographical accounts and television movies, suppresses the truth about Bystrolyotov's denunciation of the Soviet system as a whole and Stalinism as the equivalent of Nazism.

Emil Draitser is an award-winning author of fiction and nonfiction. Originally a freelance journalist in the Soviet Union, where his work appeared in the leading periodicals Izvestiya, Youth, Literary Gazette, and Crocodile under the pen name "Emil Abramov", he was blacklisted for a satirical article. In 1974, he immigrated to the United States, where he has been a professor of Russian at Hunter College in New York City since 1986. In addition to his twelve books, Draitser has published essays and short stories in the Los Angeles Times, Partisan Review, North American Review, Prism International, and many other American and Canadian periodicals. His fiction has also appeared in Russian, Polish, Ukrainian, Belarusian, and Israeli journals. His most recent book is Shush! Growing Up Jewish Under Stalin: A Memoir.

April 30, 2010 - Wall Street Journal
The Rake's Progress: A virtuoso ladies' man and stealer of secrets. The skills were related.
by Joshua Rubenstein
- http://www.wsj.com