Oleg Atbashian
Presentation of the book, "Shakedown Socialism," and discussion with the author, exploring and explaining why socialism cannot work.
Event Venue:
Russian Bookstore No. 21
174 Fifth Ave (btw. 22nd & 23rd St)
Manhattan

Event Date:
April 27, 2011, 7:00 PM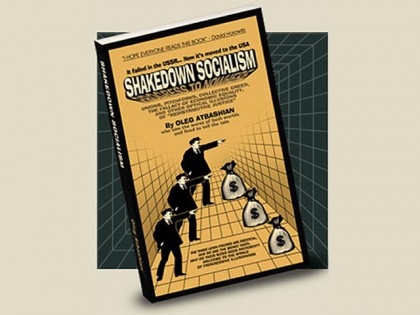 Book Presentation and discussion with the author
Wednesday, April 27, 2011, 7:00 PM
Oleg Atbashian is a writer and graphic artist from the former USSR. Born and raised in Ukraine, he used to be a teacher, a translator, a worker, a freelance journalist, and at one time a propaganda artist, creating visual agitprop for the local Party committee in a Siberian town. In 1994, he immigrated to the USA hoping to live in a country that was ruled by reason and common sense. Now he lives in New York City. He is the creator of ThePeoplesCube.com, a satirical website where he writes under the name of Red Square.
A brilliant study, profusely illustrated with cartoons and propaganda posters, it explains why Socialism cannot work. The book is an eye-opener as the author supports his arguments with examples drawn from his life in the Soviet Union before 1994 and more recent events in the USA.
DAVID HOROWITZ: "Oleg Atbashian has written a timely warning for Americans about the collectivists among us and their plans for the future. I hope everyone reads this book." 
ROBERT SPENCER: "Brightly written and filled with entertaining and illuminating illustrations, Oleg Atbashian's Shakedown Socialism is an eye-opening guide to exactly what is wrong with socialism."
www.shakedownsocialism.com
www.shakedownsocialism.com/media.php
http://www.youtube.com/watch?v=G_aNNT7cFuQ