Susan Gold | Norilsk: A Tale of Suspense in the Time of the Oligarchs
Susan Gold reading from her new novel, set in Soviet Russia after Perestroika reveals gross corruption, sweeping betrayal, and a metals deal in palladium gone bad.
Event Venue:
Russian Bookstore No.21
174 Fifth Ave (between 22nd and 23rd St)

Event Date:
December 10, 2014 | 6:30 PM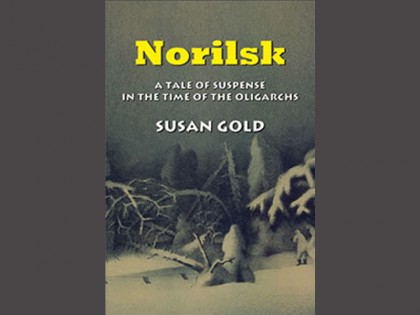 As Winston Churchill once said, "Russia is a riddle wrapped in a mystery inside an enigma."

Susan Gold, a renowned scholar of Russian literature as well as former vice president of the American International Group in Moscow, explores this riddle and its stunning and pervasive impact on business interests during the Yeltsin period in her new novel Norilsk – A Tale of Suspense in the Time of the Oligarchs.
The novel opens with the return of the alluring precious-metals chief of a U.S. conglomerate to Russia after the collapse of the Soviet Union. Susanna Thompson reappears to finance a metals deal in Norilsk, home of the largest metals refinery complex above the Artic. Her task is to upgrade the plant's infrastructure in return for agreed-upon prices and hedged quantities of palladium. Instead, she finds that her lover has been murdered and that the entire economic system has been profoundly altered in her absence.
Boris, Susanna's lover, was allegedly murdered by Georgian friends or their proxies for "failing to deliver" art to a Madison Avenue gallery. He was also involved in trading shares for – and skimming money from – a coterie of well-connected oligarchs who had privatized Norilsk. Susanna is determined to find Boris's murderer and to succeed with Norilsk, but the unexpected death of the new director of the metals refinery complex in a car explosion in Moscow further disrupts her plans. When the Kremlin declares that strategic resources belong to the state, Susanna responds with the threat of international arbitration, but her business challenges are enormous, and she has yet to determine who murdered her lover. Personally and professionally, her affairs in Russia are spiraling inescapably downward.
Gold explains, "My story is an insider's look at Russian business. I lived in Moscow for many years working as a vice president and representative of an American conglomerate in the metals industry. Before Perestroika, our business was stable, prosperous, and predictable. After Perestroika, everything changed." She adds, "This novel reflects the reality I found in Soviet Russia."
"Anyone who has worked in Russia or with Russians will find Susan Gold's novel Norilsk an instant penetrating reminder of what it was like to try to do business with the Russians during the Yeltsin period. Her work is more than a novel; it is an evocative richly textured tapestry providing a very accurate panorama of what Russian life was like in the lawless, confusing and dangerous environment
of that period…A very rewarding read." - Joseph Rubin, former adjunct professor at Columbia University School of Business, Law School and School of International and Public Affairs, and founder and director of Columbia University's International Technical Assistance Program for Transforming Economies, which conducted management training programs for Russian executives in Russia and the U.S.
AUTHOR: Susan Gold is the author of the acclaimed memoir about the Holocaust The Eyes Are the Same. She received her B.A. in history from Brandeis University and her M.A. in Russian Literature from the Russian Institute at Columbia University. After serving as a consultant for Russian business development for Chase Manhattan Bank, she rose to become vice president of the American International Group (AIG), where she was their chief trading office representative in Moscow. After retiring from AIG, she consulted for the International Agency for Development in Kiev, Ukraine. When she returned from Europe, she also taught at the school for International Affairs, Columbia University, and served as director and consultant for Russian business outreach for the Harriman Institute, Columbia University, and as a consultant for American corporations interested in the Russian market or already doing business in Russia. Russian history has always challenged and fascinated her. This was especially true after the fall of communism, when Yeltsin sought a future for a "democratic Russia." She lives and writes in Englewood, New Jersey.