The Art of Translation: Dialogues
Program #6. Irina Mashinski - Robert Chandler
Saturday, November 26, 2022
A series of conversations in the RACC movable studio: the author and host Irina Mashinski in dialogue with masters of the ancient art of translation, as they reflect on their work.
Event Venue:
RACC Movable Studio, New York

Event Date:
Saturday, Nov 26, 2022 | 12:30 PM EST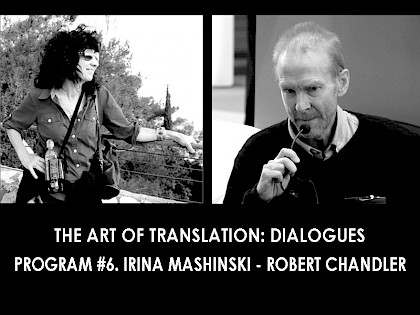 The Russian American Cultural Center presents:
The Art of Translation. Dialogues
The author and the host: Irina Mashinski
Dialogue #6: with Robert Chandler
A series of conversations in the RACC movable studio: the poet and essayist Irina Mashinski in dialogue with masters of the ancient art and craft of translation, as they discuss the place of translation in today's world and reflect on their work.
What is translation, after all? What is the nature and the role of the 'original' in each particular case? What is actually being translated? And why is it relevant today, of all times?
A conversation with Robert Chandler about translation Andrei Platonov:
why Chandler has translated The Foundation Pit twice; why it has taken him several decades to complete his translation of Chevengur; and what it means to collaborate on Platonov translations and discover, in the course of this collaboration, how very often Platonov's apparently odd word choices are in fact deeply meaningful pointers to hidden political or religious subtexts.
Robert Chandler's translations from Russian, mostly for NYRB Classics, include works by Alexander Pushkin and Nikolay Leskov; collections of stories and memoirs by Teffi; and novels and stories by Vasily Grossman, Andrey Platonov and Hamid Ismailov. He is the editor and main translator of Russian Short Stories from Pushkin to Buida and Russian Magic Tales from Pushkin to Platonov. Together with Boris Dralyuk and Irina Mashinski, he has co-edited The Penguin Book of Russian Poetry. He has also translated selections of Sappho and Apollinaire. He runs regular translation workshops in London. His most recent publications are Pushkin's Peter the Great's African and Vasily Grossman's The People Immortal, both co-translated with his wife Elizabeth. His next publication will be Platonov's long novel Chevengur.
Irina Mashinski was born and raised in Moscow. She graduated from Moscow University, where she studied theory of landscape and completed her PhD in paleoclimatology. In 1991, she emigrated to the United States, where she taught high school mathematics as well as literature, history, and meteorology at several universities. Mashinski is the author The Naked World (MadHat Press, 2022) and of eleven books of poetry and essays in Russian. She is co-editor, with Robert Chandler and Boris Dralyuk, of The Penguin Book of Russian Poetry (Penguin Classics, 2015) and of Cardinal Points, the journal of Brown University's Slavic Department. Her work has been translated into several languages and has appeared in numerous journals and anthologies both in the US and internationally. Her second English book, Giornata (Červená Barva Press), is forthcoming in the fall of 2022. Website: www.irinamashinski.com
This program is made possible, in part, by the New York State Council on the Arts with the support of Governor Kathy Hochul and the New York State Legislature, by public funds from the New York City Department of Cultural Affairs in partnership with the City Council, Cojeco and Tianaderrah Foundation.