TO LAUGH OR NOT TO LAUGH A talk by Emil Draitser, Professor Emeritus, Hunter College
Event Venue:
St-Petersburg Global Trade House
261 5th Ave. New York, NY 10016

Event Date:
Thursday, November 10, 6:30 - 8:30 PM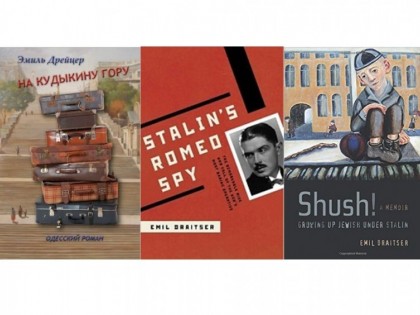 Wine and cheese reception follows
About the talk: A quarter of a century has passed since the collapse of the Soviet Union, the longest lasting totalitarian society in modern history. While many aspects of the system are known, there are still many more of them to explore. For example, for many people in the West, the very notion of "Soviet satire" sounds like a contradiction in terms. Yet, this particular brand of journalism flourished in Soviet time. What a satirist could and what he couldn't lampoon in the tightly controlled Soviet media? What would happen to him if he slipped? Based on his experience as a freelance contributor to the Soviet satirical field in his past, the speaker will address these and other related issues, as well as answer questions from the audience.  
About the speaker: Under his pen name "Emil Abramov", Emil Draitser began his writing career by contributing satirical articles to leading Soviet periodicals, such as Crocodile, Literary Gazette, Izvestia, and Youth. In 1975, blacklisted for writing an article critical of an important official, he immigrated to the United States. He earned his doctorate in Russian literature from UCLA and, for the last thirty years, teaches Russian language and culture at Hunter College.
        Of twelve volumes of his artistic and scholarly prose, both in Russian and English, the most recent titles are Na kudykinu guru: A Novel of Odessa, a biography of a real-life Russian James Bond, Stalin's Romeo Spy,  and a memoir, Shush! Growing up Jewish under Stalin. (For more info, go to: http://www.emildraitser.com)
The Russian American Cultural Center, 520 East 76 Street # 7E, New York, NY 10021646-831-0554, russculture@aol.com; www.russianamericanculture.com
This literary event is organized in collaboration with St-Petersburg Global Trade House
RACC's events are made possible in part with public funds from the New York State Council on the Arts, a state agency, New York City Department of Cultural Affairs, in partnership with the city Council, and Cojeco.