Twenty-First Century Russian Poetry: The Anthology Launch Reading
A reading from a new online anthology of works by 50 contemporary Russian poets, edited and with a preface by Larissa Shmailo, celebrating poetry and translation.
Event Venue:
Cornelia Street Café
Greenwich Village
NYC

Event Date:
December 11, 2013, 6:00 - 8:00 PM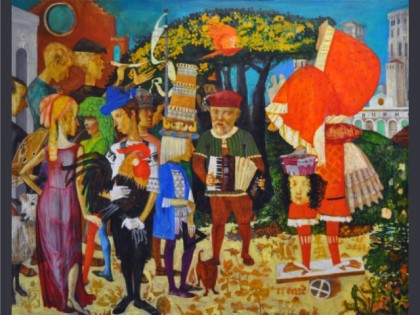 Our reading presents a new online anthology, edited by Larissa Shmailo, entitled Twenty-first Century Russian Poetry, which features 50 leading contemporary Russian poets translated by extraordinary poets. This anthology, which is available free-of-charge and in shareable Internet format, has captured both the popular and scholarly imagination in the brief time since it was published in July, 2013.
The anthology recently received a rave review in Russia Beyond the Headlines (readership 32 million, in 7 languages), which called it "groundbreaking" and a "feast."
http://rbth.ru/arts/2013/07/23/fifty_russian_poets_unveiled_in_online_anthology_28317.html
https://www.facebook.com/events/1396402763930242/
It was recently praised on the show Russian Bookworld on Voice of Russia:
http://voiceofrussia.com/radio_broadcast/28742746/239869305/
The anthology was also featured on Harriet, the Poetry Foundation's blog (http://www.poetryfoundation.org/harriet/2013/07/a-new-anthology-of-21st-century-russian-poetry/) Scholarly organizations such as the Association for Slavic, Eastern European, and Eurasian Studies are lauding it, and it will be the subject of an academic interview on Voice of Russia hosted by Professor Adam Weiner this fall.
Twenty-first Century Russian Poetry may be viewed here:
http://bigbridge.org/BB17/poetry/twentyfirstcenturyrussianpoetry/twenty-first-century-russian-poetry-contents.html
We look forward to seeing you at this official launch reading